GermzFREE
Instant Hand Sanitizer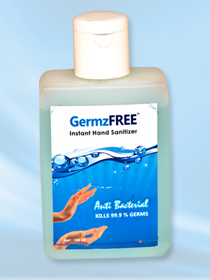 Technical Information
(Ethanol IP 62.0 % v/v, Denatured with Isopropyl Alcohol I.P. 3.3 % v/v, Gel Base QS – Contains Glycerin, Tocopheryl Acetate, Aloe vera, Fragrance & colour Brilliant Blue FCF as key ingredients)
Contains more than 62.0 % alcohol and kills 99.9 % germs leaving refresh feeling without using soap and water.
Advantages
Contains Aloe vera, Glycerin & Tocopheryl Acetate to moisturize the hands whereas its soap free pH natural base cleans gently.
Active Ingredient in hand sanitizer, alcohol, is more effective and faster acting against bacteria than most leading antibacterial soaps.
It is used on hands without soap, water or towels, leaving them feeling refreshed and soft.
Board spectrum, fast-acting antimicrobial effect.
Easy to apply, easy for travelling.
Ideal for use at any time in any place where water is not available.
Dries quickly to leave your hands soft and smooth without feeling sticky.